The Perfect Angel's Links: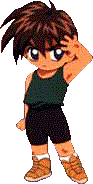 Together Forever: Heero & Relena
heeroyuy.com
An awsome site with tons of pictures, info and other fun stuff, and it's not just for Heero either, it's all of Gundam Wing and some other animes too!
gundamwing.net: The GW Archive
Man do I love this page or what? Not only do they have the translation of the Episode Zero manga, but they've got anime, shopping, games and more!
GundamOfficial.com
The official Gundam website. With th official info on the After Colony Century as well as the Universal Century.
Endless Dedication - A Tribute to Shin Kidousenki Gundam Wing
An AWSOME site! She's got tons of great info and pictures here.
Gundam Wing dub sounds
A great source for wav sounds from the dub.